Harnessing the Power of Data - How Mayden Supercharged Tableau Performance with DBmarlin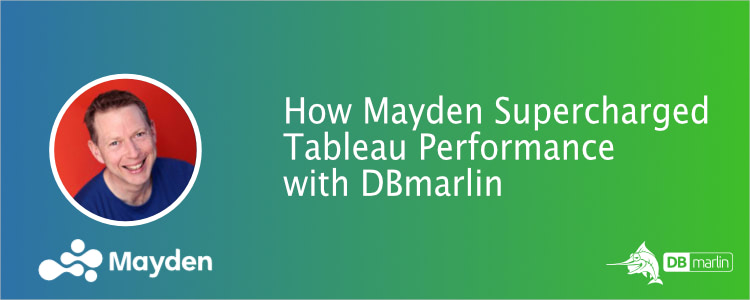 Do you find yourself fascinated by the ever-evolving world of healthcare technology? If so, let's dive into a captivating narrative of transformation - the story of Mayden's journey to supercharge its Tableau performance with the help of DBmarlin.
For over two decades, Mayden has been at the forefront of creating technology that fuels healthcare services, aiding them in delivering data-driven, outcome-focused, and patient-centric care. Their flagship offering, iaptus, is a patient management system that has garnered widespread acceptance. Used by over 200 NHS organisations across the UK, iaptus has firmly established itself as the most popular patient management software among Adult and Child mental health providers within the NHS.
In a recent chat with us, Chris Eldridge, Mayden's Director of Operations, peeled back the curtain on how DBmarlin played a pivotal role in bolstering the performance of Tableau during the development of a suite product. Mayden's data team, responsible for preparing data for dashboards and visualisations, primarily uses Tableau.
During the suite's development process, the data team initially faced a daunting challenge - the response times for the dashboard were painfully slow, clocking in at a whopping 20 minutes. This is where the magic of DBmarlin's observability came into play.
Leveraging DBmarlin's capabilities, the team was not just able to optimise the dashboard but also fine-tune the underlying data structures supporting it. The outcome? A dramatic reduction in response times, from a tedious 20 minutes down to a snappy 30 seconds! Intrigued to know more about this fascinating journey of performance acceleration?
Uncover the full story in our Mayden case study to delve deeper into how a blend of the right technology and innovative thinking can lead to ground-breaking improvements in the healthcare sector.