DBmarlin end of year retrospective 2022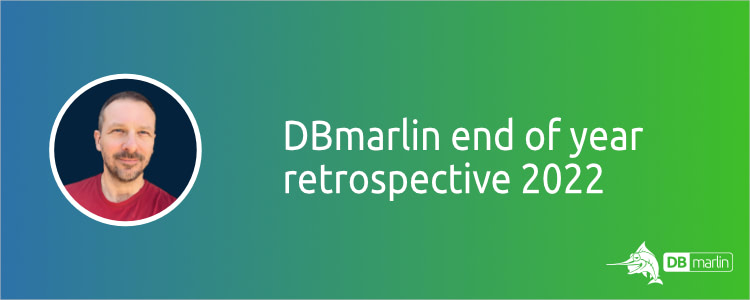 As another year comes to an end we take a look back at some of the achievements and milestones for DBmarlin over the last 12 months.
2022 has been a year of solid growth for DBmarlin with a large increase in both customers and number of databases monitored.
DBmarlin now monitoring 7x more databases than last year
This year, thankfully things started to return to normal following the pandemic. The number of face-to-face meetings with customers is still down on pre-pandemic levels, but thanks to Zoom and Slack we are able to communicate with customers all over the world without having to leave our desks which has its advantages and is much better for the planet.
We ended 2021 with new platform support for IBM Db2, MariaDB SkySQL and SQL Server running in Amazon RDS. This year we continued to validate and add support for new platforms as they are released including CockroachDB 22.1 and 22.2 and SQL Sever 2022.
At the start of 2022 we added our public feedback site which is linked into the product allowing you to suggest ideas for enhancements and features you would like to see. You can also see our public roadmap so you can see what is coming and what is being planned. We always try to prioritise features based on customer demand so encourage you to submit your ideas and vote for ideas submitted by others. By doing so you will also be notified when they move to the planning stage and when they are released.
We have continued to update the Knowledge-base and the list of 'wait events' we track across all supported platforms is now over 1,100. In addition we added our Knowledge-base for Execution plan steps and as with wait-events they are linked within the product so are only 1 click away when you need them.
March saw the addition of our Saved Snapshot feature. This powerful feature lets you save any data you need so it can be recalled later. For example you might want to save a period containing an incident, outage or slowdown that you can link to a ticket and refer back to in the future. Or perhaps you want to save the period before and after a change to your schema, code, infrastructure, configuration or DB version so you can compare before and after. Whatever the use case, snapshots allow you to save the data at maximum granularity for as long as you need, so it won't be rolled up and purged.
In April we launched our new Community which has discussion forums for both product and database performance topics. If you haven't already joined, then please do sign up and join the fun.
In the summer we added Alerting. You can now define alert rules for "Host statistics", "Instance Statistics" or "Instance Activity". These are visible throughout various screens in the product as well as the option to get notifications by email.
In July we hosted our first ever DBmarlin community meetup where we shared new features and the road-map as well as a customer presentation from TechTarget. We look forward to hosting our next one soon. Make sure you join the community to be notified.
Through the year we expanded our list of partnerships including KedronUK, LicenseFortress, Monin, and Triton Consulting. We also added a new technology partner New Relic and built an integration to send DBmarlin data to New Relic. The integration is available as a New Relic quickstart available within the New Relic marketplace.
Throughout August and September we started to collect an expanded list of SQL Statistics for all the platforms we support. The statistics will vary depending on the database technology, but in all cases will show Duration and Executions and most cases will include CPU time, Physical Reads, Logical Reads and Logical Writes. Remember, DBmarlin also provides active session sampling which allows a time-based analysis using the database wait events giving you the best of both approaches unlike most other tools.
In October and November we added some new reports to take advantage of the new SQL Statistics we are now collecting. The first of these is the SQL Stats Explorer report which allows you to see the top n SQL statements by any statistic you choose. The second report is a SQL Stats Comparison report which allows you to choose 2 time periods and compare them for any SQL statistic you choose.
December is a short month with the Christmas break but we do have a few new features planned for v2.12 so look out for that in the next week.
What would you like to see in 2023? Let us know via the feedback site.
Ready to try DBmarlin?
If you would like to find out more about DBmarlin and why we think it is special, try one of the links below.