DBmarlin 2.4 released - with multiple improvements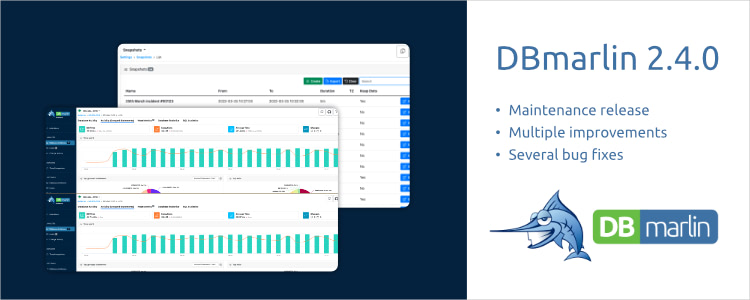 We are pleased to announce version 2.4 of DBmarlin; this is predominantly a bug fix and maintenance release but in the background we are working hard on our next big feature which will be coming soon.
Bug squashing
We have fixed our Host monitoring for those using passwords rather than private keys. Recent changes to password encryption had caused some issues in that area.
Some SQL Server statements had extra spaces added when applying our SQL formatting and syntax highlighting. This meant they couldn't be copied and run without removing the spaces first. We have modified our SQL formatter to resolve that.
For those using our new Saved Snapshots feature that we launched last month we fixed an issue related to Daylight Savings so your Snapshots now remain aligned after the clock moves forward or back.
At the backend we have resolved some minor issues which should make your DBmarlin server log files cleaner and have squashed a number of other minor bugs as we strive to provide the best possible experience for DBmarlin users.
Several improvements to user experience
The improvements this month mainly affect the frontend user interface.
We have tried to make the header bar more consistent as you navigate. The quick selector drop-down is now only visible on Instance and Host screens and shows the list of Instance or Hosts sorted alphabetically making them easier to find. Breadcrumbs have also been improved.
On the Instance performance screen we have made some very useful enhancements when working with long SQL statements. Firstly, in the Statement list view you can now see more of the statement without having to click into it by hovering to see a popup scrollable tooltip. Secondly, once you click through into the Statement screen we now show the full text for very long statements instead of just a download button. All statements or batches now have the the option to copy to clipboard as well.
Also on the Statement list view you can now search for a statement by its SQL ID provided by the vendor (in the case of Oracle and SQL server). So if you have a SQL ID from another source ,just paste it into the search box above the statement list and it will find the matching statement.
Finally, our automatic change detection for schema objects and parameters has been improved. For database parameter changes, we now show more detail about what the parameter was changed from and what it change to.
Feedback and roadmap portal is live
Remember to use the new feedback site to see what is being worked on, what is planned and the ideas suggested by others.
If you submit an idea, comment on, or upvote someone else's idea, then you will automatically get notified when that feature is being worked on and when it is delivered. This helps us keep you in the loop.
Ready to try DBmarlin?
If you would like to find out more about DBmarlin and why we think it is special, try one of the links below.