DBmarlin First Year Anniversary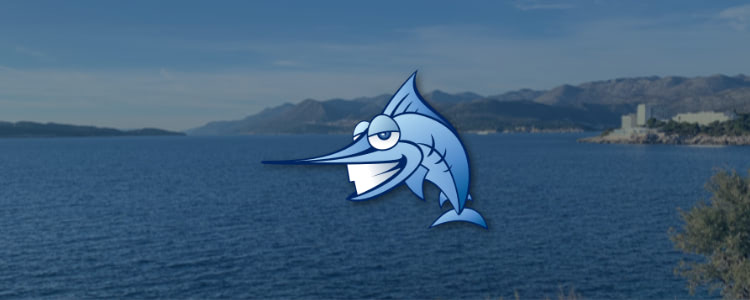 February 2020 will always stick in my mind for two main reasons.
The first is that I attended the excellent Instana conference held at the Hotel Dubrovnik Palace in the beautiful city of Dubrovnik, when life was still largely normal. There were many informative sessions and enjoyable social events. In addition, I was particularly struck by the rich blues of the sky and the darker Adriatic Sea as viewed from the hotel - a contrast with a typical February day in the UK.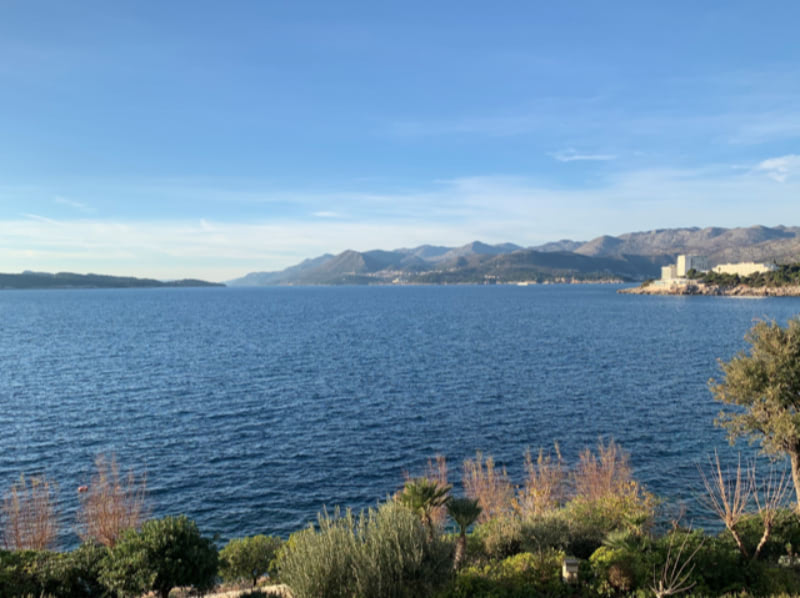 Adriatic Sea view from Hotel Dubrovnik Palace
This panoramic backdrop was the setting for the second reason: the genesis of DBmarlin. I was in the lounge with my co-director Russell, when our conversation turned to how there still seemed to be space in the market for another database monitoring tool. To fill you in on some of the backstory, the founders of Application Performance were behind the introduction of the Precise database monitoring tool to the UK in the late '90s, and the successful DBTuna database monitoring product some 10 years later. So we had some form here. Later that day we mentioned the idea to our host, Mirko Novakovic, CEO of Instana, who thought there was a good fit with Instana.
After we returned to the UK, the team started to examine the market potential in more detail. We drew up a list of desirable characteristics - support for a wide range of databases including cloud offerings, SQL capture with wait-events, real-time and historical data, per-second granularity, low overhead, rapid installation, change detection, integration with third-party tools via an API, and a modern UI accessible from any device. Not much to ask for really. Within a week the concept had a name, DBmarlin - like DBTuna, only an even bigger fish!

In early March we decided to pursue it further. We sat down with a blank piece of paper / screen and started to sketch out how the product would actually work. I needn't have worried about how I was going to fit in product development with all the other work that I did. A week later we were in the first national lockdown in the UK. What better way to spend lockdown than designing a new product? Incidentally, March saw the last installation of Precise switched off at one of our customers, after 13 years of service.
Here is how the rest of our first year panned out:
April 2020 - we created UI mockups of DBmarlin and spin up test databases in the cloud. Experimentation and design continued apace.
May 2020 - we created prototype sensors for MySQL and PostgreSQL. We made our initial choice for the repository datastore and created some simple graphs.
June 2020 - we added support for Oracle and created the core API for the UI to use. Integrations were being considered, even at this early stage. Meanwhile the product website was started.
July 2020 - we added support for SQL Server.
August 2020 - we had a working integration with Instana.
September 2020 - we created an alpha version of DBmarlin and started to cast around for beta testers.
October 2020 - we created a number of beta versions and got our beta testers involved.
November 2020 - we prepared for launch. Much energy was put into finishing the website and creating marketing collateral.
December 2020 - we achieved the significant milestone of releasing our v1.0 GA for Linux.
January 2021 - we followed up with our v1.1 release, again for Linux.
February 2021 - we added hosting of DBmarlin on Windows in our v1.2 release.
March 2021 - in v1.3 we added a time-comparison report, another important component of our change analysis capabilities, and amazingly we have completed our first year of development.
An incredible amount of hard work has gone into DBmarlin from the whole team. In addition to writing the software, there is designing, testing, obtaining early adopters, documenting, licensing, pricing, creating websites, marketing and selling, and not forgetting endlessly obsessing over colour schemes! Of course, it does not stop there. The product is evolving rapidly. Our ambition is to make regular, monthly releases so look out for future developments.
We have drawn the timeline of our first year below.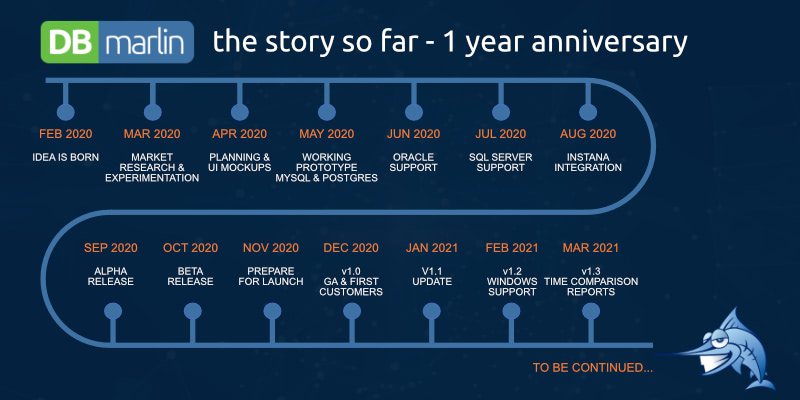 The first year of DBmarlin
If you would like to find out more about DBmarlin and why we think it is special, try one of the links below.