DBmarlin 3.2 released - with blocking sessions screen and increased granularity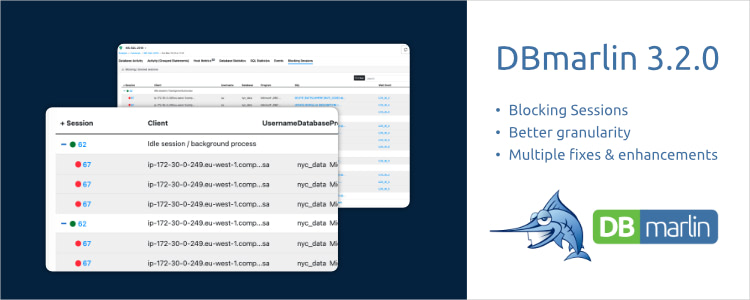 We are pleased to announce version 3.2 of DBmarlin where we have added a new screen showing the sessions which are blocking and which sessions are being blocked. We have also improved the granularity on the charts.
Blocking Sessions
Under the database instance screen you will now see additional tab called Blocking Sessions which is available for SQL Server and Oracle instances. This new screen shows a list of blocking sessions for any period you select, and expanding the tree will show which sessions were being blocked and for how long.
The columns show the Session ID, Client IP, Username, Program and which SQL Statement they were running when they were blocked. It also shows the lock wait event that they were waiting on and the amount of time they were blocked for. Clicking on the session ID will take you to a historical view of that session. Clicking on the SQL Statement will take you to a historical view of that statement's performance. And clicking on the wait event name will take you to the knowledge-base where you can read more about the wait event and what can be done to reduce it.
Better granularity
DBmarlin collects and stores most data at 1-second granularity by default. This is really useful for seeing the detail when troubleshooting a database performance problem. Before v3.2, there were some time ranges, where the UI would not show the detail and instead rolled up the data on the charts into bars of 1-minute, 1-hour or 1-day. In some cases, this would result in too few data points.
The new logic aims to have more data points per chart in most cases. For example, when looking at a 10 minute period, you would previously have seen 10x one-minute bars but now you will see 120x five-second bars. Similarly when looking at 1 day, you would previously have see 24x 1-hour bars but now you will see 96x 15-minute bars.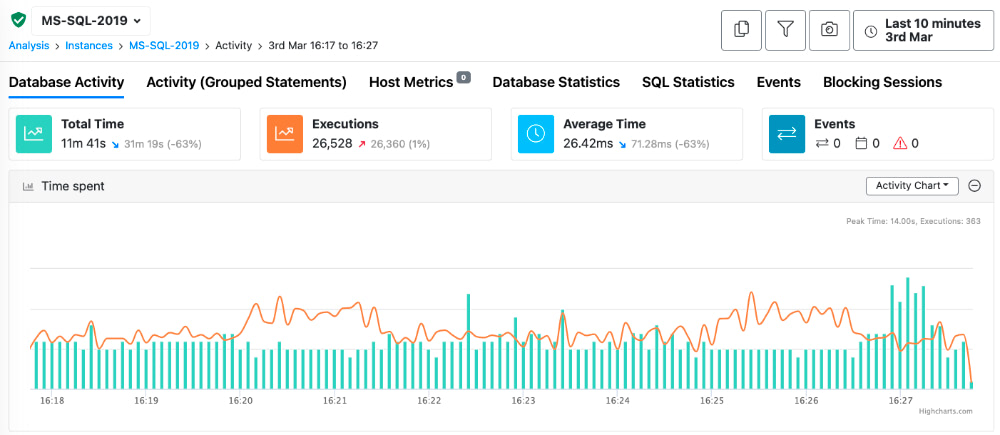 Ready to try DBmarlin?
If you would like to find out more about DBmarlin and why we think it is special, try one of the links below.